Business process automation
Opportunity to automate all business processes in STP mode.
International accounting standards
Support for all major accounting standards and financial information exchange.
Adaptability to requirements of specific customer.
Opportunity to adapt the system and feature set to required tasks by adding necessary modules.
Independent administration
Opportunity to quickly add new products / services without let or hindrance from software developers.
Internationalization ability
Interface support in different languages.
Built-in report generator
Own reports of any complexity that meet requirements of local regulators.
Multi-currency accounting system
In real-time.
Assistance in development of applications for administrators and operators. Free support for 6 months.
Operates in multi-currency mode. All account balances are updated in real time as transactions are executed and confirmed.
It allows to organize a multi-level monitoring of transactions. The system supports a powerful internal audit, separation of powers and user privilege system.
It consists of two main subsystems: back office and client web interface (front office). The back office includes the operator/manager module and administrator module.
It has a modular structure.
Easily integrates with other external systems due to open architecture and flexible API.
It supports multilingual capability both at the input / stored data level and at the user/client interface level.
Development stages of the Canopus platform-based solution
Customization of reference tables, tariffs and tariff rules, limits, etc.
Customization of data exchange with external systems and banks; user profiles and access authorities.
Customization of menu structure and physical appearance of the web application.
System testing, running through all business processes.
Putting the system into trial operation, generation of a list of a punch list / suggestions.
After testing and remedial actions, putting the system into normal operation.
Reviews from
our customers
Olga Yarygina
General Director
"Digital Payment" LLC
"Digital Payment" LLC, "Sendy payment system operator", expresses its sincere thanks to Canopus company for successful cooperation and provision of financial hi-tech software solutions. During our cooperation (since 2016) in application of Canopus software products for provision of new payment services to our clients we noted competence of your employees in IT area, quick response and understanding of our needs as a client, desire of Canopus employees to do their work in time and with high quality.
Your company has become our reliable partner ensuring mutually beneficial cooperation. We particularly appreciated the efforts of your consulting experts who are creative in solving their tasks and thoroughly tackle all the issues at stake.
We are planning to continue cooperation with your company in developing our projects of payment technologies and integration of information and financial systems.
Thank you for your professionalism!
Best regards,
Olga Yarygina
General Director
Vyacheslav Glazkov
Director
"Lubertsy Production and Technology Communication Hub" CJSC
"Lubertsy Production and Technology Communication Hub" CJSC expresses thanks to "Canopus Innovative Technologies" LLC for successful realization of strategically important project.
This project brought our business to a new level of servicing clients. At present "Canopus Innovative Technologies" LLC has realized about a thousand functions / options in the system.
The system is in production already for a few years, and through joint efforts we continue its development and build-up.
In particular, in the nearest time we are launching payment site advertisement – and this is one more component of our system provided by "Canopus Innovative Technologies" LLC.
The work conducted with the system resulted in higher speed of customer processing and widening of the range of our services.
"Canopus Innovative Technologies" LLC fulfills our requests for system adaptation quickly and reliably.
We express our gratitude and look forward to further cooperation.
Dmitrijus Apockinas
Director of Compliance
PayAlly
On behalf of PayAlly I wanted to thank you for the successful implementation of Canopus Platform in our payments institution.
We were very excited that all our business lines, such as payments, acquiring and card issuing could be easily incorporated into one solution.
Comprehensive reporting tools and internal accounting module save us a lot of time and efforts in preparing our financial statements. Regulatory reports and fetching key data for management reporting can be produced within seconds.
We have to complement on ease of use of Canopus Platform, all our team members love it! It takes very little time to train an employee, as all interfaces are easy to read and understand, and are intuitive by nature.
And last but not least, we sincerely appreciate your professionalism when it comes to integrations with our partner banks, acquirers, and gateway, those integrations were carried on time and effortlessly, no matter how complex or complicated the APIs are.
We wish you all the best in developing Canopus Platform further, as it is a perfect affordable yet comprehensive solution for payments, electronic money institutions and specialized banks.
Best regards,
Dmitrijus Apockinas
Director of Compliance
Nikolay Rozhok
CEO
XIXOIO Ltd

I have known Canopus and used their financial software solutions since 2004 while I was employed at CGPay. Subsequently our business relationship continued and, since 2009, while I was CEO at MoneyPolo, we used a customized version of the Canopus financial platform.

At all times I have found Canopus to be a steadfast business partner. The financial software that Canopus provides is dependable, scalable, fit for purpose, and above all secure, which is of vital importance in my line of business.

When the question arose to choose a provider for our new project – XIXOIO (developer of an integrated fintech ecosystem) – I did not hesitate to work with Canopus once more. 


Most recently, Canopus has helped XIXOIO integrate a system with flexible and user-friendly options which has allowed us to develop our own business solutions further. We have found the Canopus core banking product to be reliable and stable in supporting our day to day operations.

It is without hesitation that I would recommend Canopus to my colleagues in the fintech industry.


Nikolay Rozhok,
CEO,
XIXOIO Ltd
Nikolay Rozhok
CEO
XIXOIO Ltd

As the current project is the third one in last 17 years built on EpaySuite we haven't spent time on observing the functionality. We have invested in to switch of the MSSQL to PostgreSQL, 1 years of 2 full time developers.
We manage:
- multibranch (7 companies within the group with several branches for some of them) in 3 different jurisdictions (bookkeeping rules), including in-houseaccounting, - multicurrency including commodities,
- compliance procedures for the group and clientele,
- financial transactions including communication with the 3rd party providers,
- some functions helping to create comprehensive CRM based on 3rd party solution,
- reporting.
Among the prosperities there are multibranch, multicurrency books and revaluation, clear logic, value for money and efficiency, flexible roles distribution.
Nikolay Rozhok,
CEO,
XIXOIO Ltd
Elena Lasmane
CFO
Connectum Limited
On behalf of Connectum Limited, we would like to express gratitude to Canopus IT, with which we have been successfully cooperating since 2015.
On the basis of the Canopus IT platform functionality, several important business projects have been successfully implemented over the years.
We would like to specially note the expertise of the company's employees who provide high-quality and timely support at all stages of work: they assist in drawing up the technical specifications, offer the best solutions to the tasks, advise on current and urgent questions, and resolve controversial issues. As a company, we are focused on future development, and we hope that our fruitful cooperation with Canopus IT will continue.
Elena Lasmane
CFO
Connectum Limited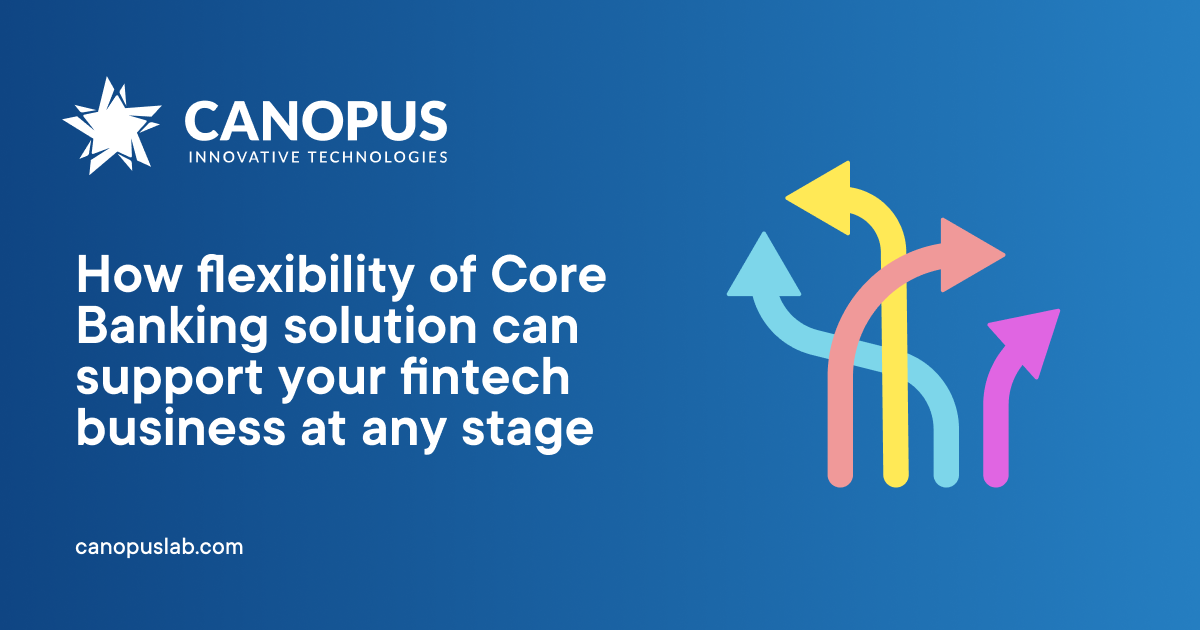 24 March 2020
Is your core banking solution flexible enough? Does it provide unlimited opportunities to make modifications, extend functionality or enable additional integrations? Flexibility is at the core of
…